Essential Ingredients For A Perfect Tofu Recipe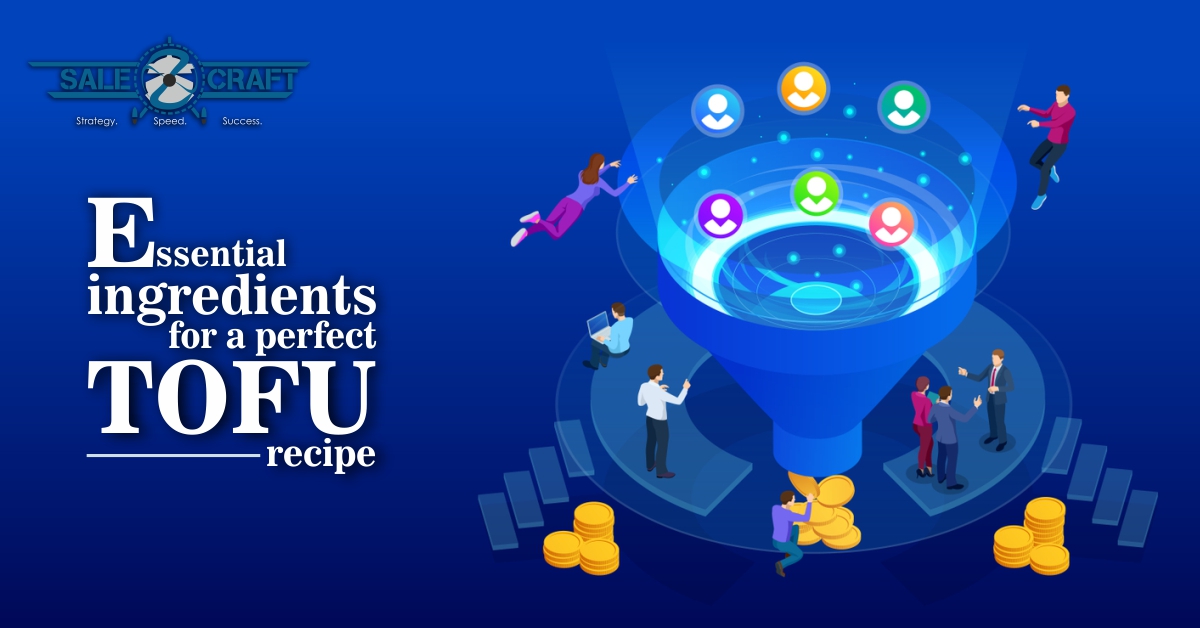 As we told you in our last blog "A Roadmap For A Successful Demand Generation Funnel in 2019" that we will learn more about the basic fundamentals of a funnel in our next blogs, so here we have got an enjoyable recipe for a perfect Top of the funnel strategy, easy to digest.
A successful marketing funnel can be a tricky business to manage in a demand gen strategy and to do so, we have to keep in mind the importance of all the stages from which a prospect need to travel to become a lead, a journey from awareness stage (when they first learn about your business) to "purchase" stage (when they're ready to buy your product or service).
In this aspect the top of the funnel marketing describes the ideal process to approach a prospect to become a potential customer with focusing on awareness for a product or a service, can include activities and campaigns that focus on lead generation and targeting consumers in the uppermost portion of the marketing funnel to introduce your brand to fresh prospects and shows them that you empathize with the issues and pain points they experience and through this process, those who are not interested in your product or service, leave the funnel.
The rest of your marketing funnel, however, includes prospects who know about your brand and have already engaged with your business. The prospects entering your funnel could be fully unaware of your solutions, brand, or services so the right approach could be the key to success for you.

The right recipe for successful tofu requires the finest of ingredients to prepare.
Tasty Offers- Top-of-the-funnel marketing requires robust efforts from the marketer as this is a need of the hour, after all, customers satisfaction is the true success for any business right and your only goal should be brand awareness under your content marketing strategy in this part of the funnel. A good approach could be the best way to do it.
In the awareness stage, you can attract website visitors to your brand by giving crunchy free offers to have access to your recent blog posts, articles, infographics. Entertain them with web shows, podcasts, interviews. These offers are effective to create a strong initial impression on your visitors, so much so that they will form a relationship with your brand telling you who they are and entering your marketing funnel.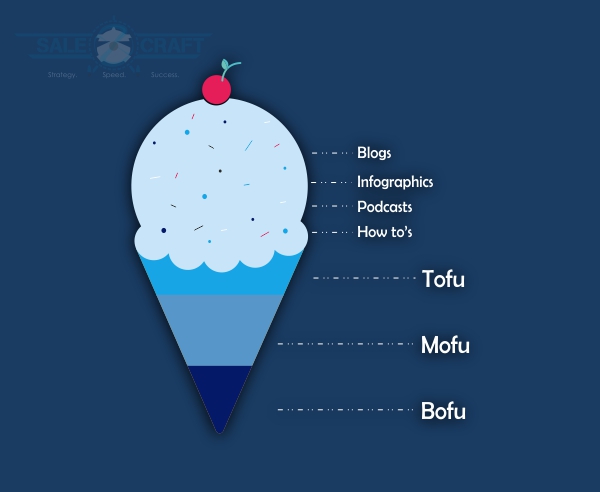 Good Mixture Of Awareness Activities- We are done with the offers, now what else can you do? Now it's time for the answer, everyone has played crossword in their childhood while reading the newspaper right, so this is going to be the same. But then you get your cheat sheet in the next day's edition, but we are giving you here right now. This is where you can get creative.
The key to a great top-of-the-funnel strategy is to identify your visitor's pain points and interests and what types of content they want to have. You can do that by making them participate in your surveys, Q&A sessions, how-to series on social media platforms, and lead generation campaigns. This could help you to impress them and develop strong relationships with them, as we all know first impressions are lasting impressions so you have to be sure to make it right for your company.                                                      
Balance Of ABM - In our previous post we talked about developing the content strategy, let's talk about execution. If you are planning to use Account-Based Marketing strategies to customize your target audience by your preferences, I would say 'you can go ahead but before that, it's better to understand a few of the features of ABM as ABM can be a floating strategy depending on the company to company and target audiences, here if you are using an account-based marketing strategy, only focuses on content execution in the top of the funnel can get you to your preferences.
In ABM content execution strategy you get your target audiences in place and very well aware of what pieces of content they will be interested in reading and if they demand personalized content when its needs to be refreshed. Personalized content means understanding the diversification of demands and action according to their unique needs by personalizing email using existing customers in such a way that it provides an opportunity to so you can identify who are potential enough to return back your investments in the form of great ROI.
The Customer Perspective - Companies in every industry find customer experience the toughest part to crack. A prospect's perception plays an important role in a company's ability to attract new customers and retain existing relationships. The good news is that you can control many of the factors that build an individual's perception of a company or a brand. Perception can depend on a few situations, such as it could be from direct interactions and experiences with your brand or the feedback they hear about your brand from their surroundings.
It can be either positive or negative, but you can't blame them for being wrong about your company, their perception is their perception, and it's up to you to correct it. If you do what you are best at and at the right time they will come back to you  You can make a via surveys or interaction feedback on a daily basis to understand their points, a lot can be identified in terms of what the customer is really thinking. This information can be used to drive business decisions and the necessary changes.
"Customers matter, and so do their opinions".

"Every day we're saying, 'How can we keep this customer happy?' How can we get ahead in innovation by doing this, because if we don't, somebody else will." – Bill Gates
"Everything starts with the customer" – Louis XIV

Be there_     Mofu and Bofu are in the making….
And check our recent blogs @salezcraft.com/blog