How ABM Is Securing Customer Relationship?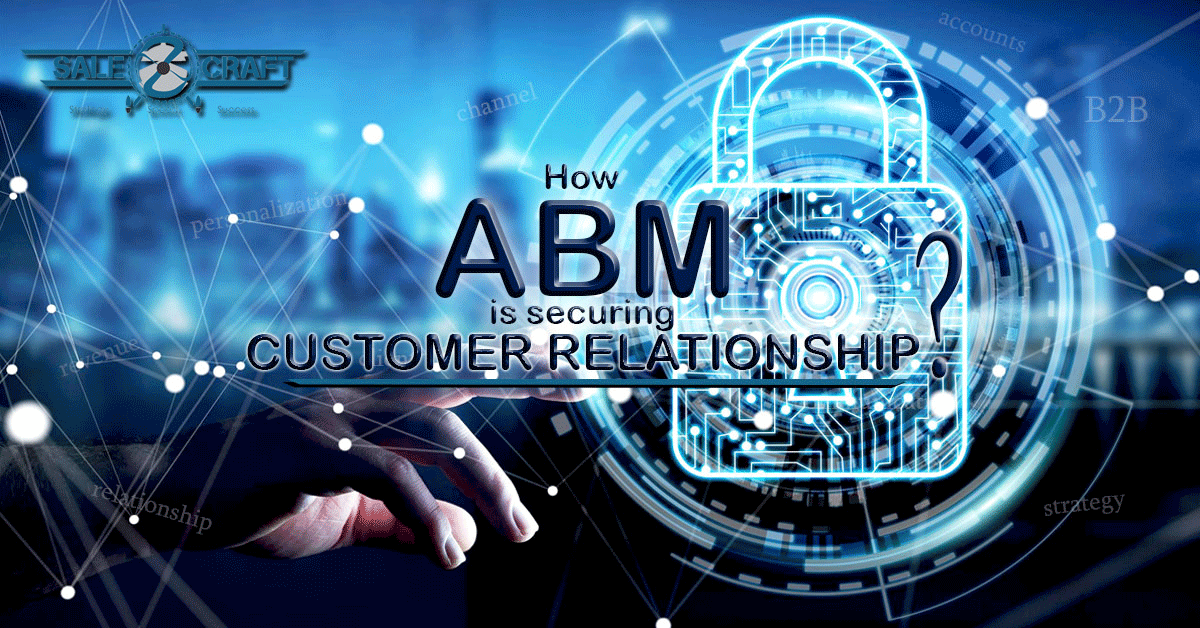 Account-Based Marketing (ABM) is being adopted at a far larger scale than it has ever been before, although it seems to be a good sign for the market.
ABM
Account-Based Marketing (ABM) is a systematic and Personalized way of approaching the relevant prospect. A new name for an age-old practice which can be term as personalization and nurturing of key business customers, if you take it in a profit term ABM is providing the highest ROI among B2B marketing strategies and that too very cost-efficiently. The basic whip hand that ABM has, it can help marketers to eliminate the poor leads that are of no use and can disturb a sales process, a process of customer acquisition, making marketing teams stronger for the long run in marketing.
Since your target is set more clearly, the individual team goals are set into places. With an ABM strategy, your metrics are aligned to a single account and become less conflicting or misaligned. For market leaders, ABM creates a chance to provide more personalized emailing services for particular groups of individuals. However, while trying to build a list of potential customers always keep the very importance of relevant contacts in mind, which can add value to your effort to secure a strong business relationship with clients increases.
In some ways ABM maximizes your marketing efforts on key accounts to generate revenue, with such a narrow focus, this can be a good alternative to optimize your valuable resources so you and your team can directly focus on sales-oriented targets. Account-Based Marketing (ABM) is being adopted at a far larger scale than it has ever been before, although it seems to be a good sign for the market.

If we take facts here
"According to a B2B firm named SiriusDecisions- 92% of marketers call Account-Based Marketing (ABM) a B2B must-have; and according to eMarketer, 41% are planning to increase spending on ABM".

There are a few considerable direct advantages of ABM that can give a rapid transition in your sales process.

Faster Sales Process:
ABM in fact can really give you a wing as it gives you the opportunity to specifically develop your primary decision-making policy, with only relevant prospects to close a deal faster. Marketing directly to relevant accounts of your business that you know has the potential of conversion in sales leads, so your sales process can be extremely fast and cost-efficient at the same time. ABM can make a tremendous amount of sense from a budget perspective. And overall provides a strong time optimization strategy for your business.
Efficient Use Of Marketing Resources:
With a precise account database, ABM can increase the efficiency of marketing resources, as ABM challenges you to think in a more aligned way to organize your resources and save their time so you can better know your audience, as well as conversion behaviors, you're building a kind of expertise that no one has elsewhere in terms of resources consumption.
Shorten Sales Cycles:
Account-based marketing can help companies to specify the target audience and effectively shorten the sales cycle by using a Mutual Action Plan so companies can change their time-consuming sales process into a shorter sales cycle. By eliminating unqualified prospects early from the database. As account-based marketing provides more targeted and purposeful marketing initiatives directly aligned with those of sales. This will be resulting in a shortened sales cycle and improved profitability.
A Way To Stand Out From The Crowd:
Marketers can waste most of their time doing things that really do not help generate more leads or convert customers into sales preferences without an automation strategy. It would be far more relaxing for you if you just put these efforts into prospecting sales opportunities and following up on prospects, it would help close more deals.
Your sales team should totally focus on prospecting leads and converting them into potential customers. The other non-sales tasks should be automated. The basic advantages of using ABM are that there are very fewer accounts you're keeping track of, so The quality and quantity of data can be two important factors of a successful ABM campaign, as you are viewing each account as a group or a customized marketing approach.
"In its purest form, account-based marketing has been around forever. Account-based marketing is simply instead of fishing with nets, we're fishing with spears. You identify exactly the prospects you want to do business with and then you market very precisely and narrowly to them directly". - Matt Heinz, President, Heinz Marketing

So stay tuned for the next update
And check our recent blogs @salezcraft.com/Blog