7 B2B Marketing Trends To Look Out For In 2019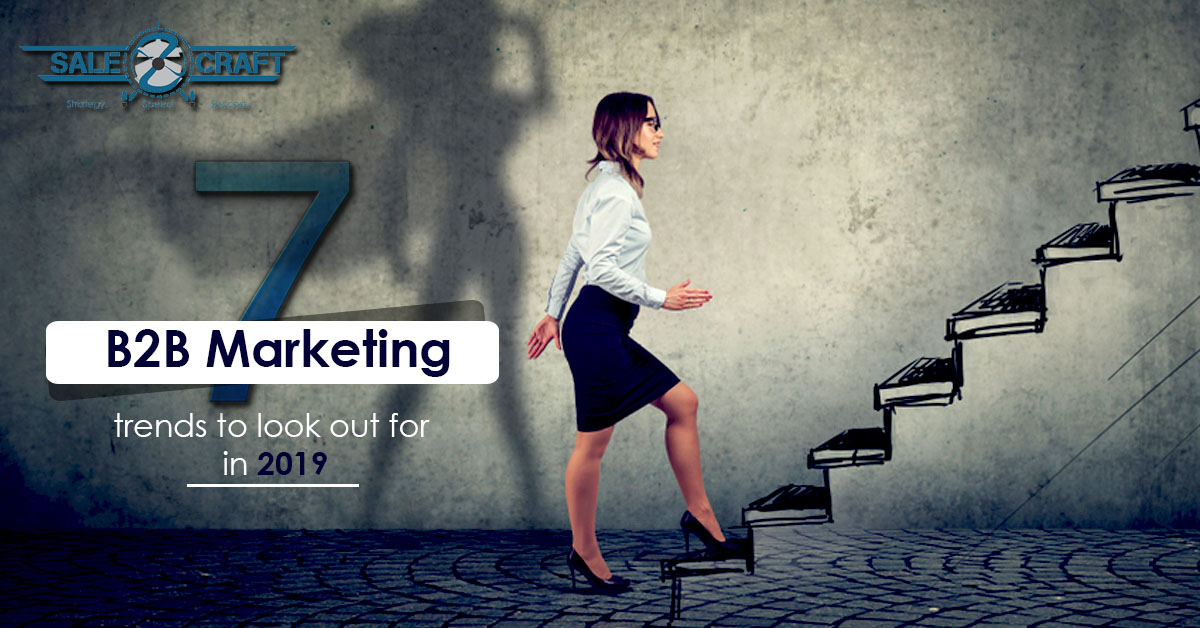 All the marketers will be looking to start the year with a blast but in this rat race, some of the basic marketing strategies will be dominating the new marketing tactics by their outcomes. Here is a short brief related to 7 B2b marketing trends that are going to be in the discussion.
Account-based marketing - Account-Based Marketing (ABM) is certainly going to be the hot topic in B2B circles in 2019, but like other trends, the term ABM has some unique benefits that help B2B marketers reach more of key interest in their target accounts, Increase account relevance and to do so at a bigger scale, and to cast a wide net with their lead-generation efforts, marketers can use ABM to work closely with sales to identify key prospects and then tailor customized programs to the buying team within target accounts. Marketing and sales can more effectively engage and convert accounts by merging efforts and resources For example, Northrop Grumman employed ABM to aid in the completion of a successful $2 billion deal.
Content marketing- Content marketing has been the love interest for B2B marketing for over a decade and in 2019 where companies will be focusing on their sales targets and may try to give new look to their content marketing strategies, But In 2019, B2B content marketing will get back to its roots- seeking to "create and distribute valuable, relevant, and consistent content to attract and retain clearly defined readers." So it's better for the businesses to look for less prominence on the quantity of content and more focus on creating quality, original, thought leadership-based content that educates buyers and readers about the new trends that are about to be in the discussion for such a long time.
"Content Marketing provides 4x the ROI of our traditional marketing spend." ~ Julie Fleischer, VP Marketing, Neustar
Marketing automation- We have seen the implementation of marketing automation tools on a very large scale to improve the customer experience for the last few years. But marketing itself is a vast process to drive, and as we all know wearing a lot of hats in an organization is a recipe for disaster and a complete lack of sleep. The best way to overcome the limitation of time is by automating some of your processes and marketing is one area suitable for automation. But If you're considering marketing automation for your company, it's important to have a good understanding of what to expect, and what the key benefits are there, before you begin comparing the various tools. Marketing automation is about optimization. In 2019 you should focus on your staff's time and how to utilize their work hours.
Social Media Marketing- Social media marketing strategies are changing every day, bringing new trends and expertise each year. In most situations, the changes aren't sudden or unexpected. In 2019 social media marketing strategy is definitely going to help businesses to create a positive perception in the mind of customers and help your brand. Social media success can be considered as the success in achieving quality parameters and a good ROI. You can generate target audiences by using tools of data analytics for your content such as PPC and SEM. In the past couple of years, social media marketing has become a major trend here. So here you can take all advantage of very cheaper advertising offers that are being offered by the social media networks to promote your content and special offers every day. Most social media advertising is cheaper than traditional advertising tacts, so you don't have to spend a lot of money to reach more people to increase your audience, and grow your business.
Customer experience- In the last five years marketing industries have experienced a significant change in business and customer experience strategies, customer experience has now become the product of an interaction between an organization and a customer over the duration of their relationship. Customer experience is going to be the most exciting opportunity for businesses in 2019. And to Strengthen your customer service skills, a customer experience strategy could be a game-changer for you. Companies can implement a customer experience strategy and can achieve higher customer satisfaction rates, reduced customer churn, and increased revenues.
Influencer marketing- Influencer marketing is not new for the marketing legends, but in 2019 making relationships with influential people would not be enough. It is going to get great attention with the growth of social media platforms, a study by the Association of National Advertisers found that 36 percent of businesses felt their influencer marketing was effective which is a very decent ratio. And finding ways to grow your own strategies to enhance the value of any project gives you an advantage over those companies that are still struggling to get their foot in the market. Influence marketers should be more focused on identifying influential consumers and the focus should be on their behavior to get help in creating a buzz in the market for their products and services.
Email marketing- Email marketing is over 20 years old already, but still plays a major role in new-age marketing strategies, however, email marketing is constantly developing. And in 2019 our focus should be on how can we create more systematic, segmented, and simple email marketing tactics and play safe, and should avoid sending unsolicited emails. In fact, email marketing is 10 times more effective compared to many other marketing means accessible, today to reach your target audience email is the most effective and cost-efficient marketing strategy for capturing attention, as well as engaging and connecting with customers to generate sales and revenue. No other medium is as successful at building strong customer relationships as email marketing. Email marketing is the cheapest of them all when compared with the other numerous inside sales tools.
Stay tuned for the next update
And check our recent blogs @salezcraft.com/blog