Lead Generation, A Journey In Between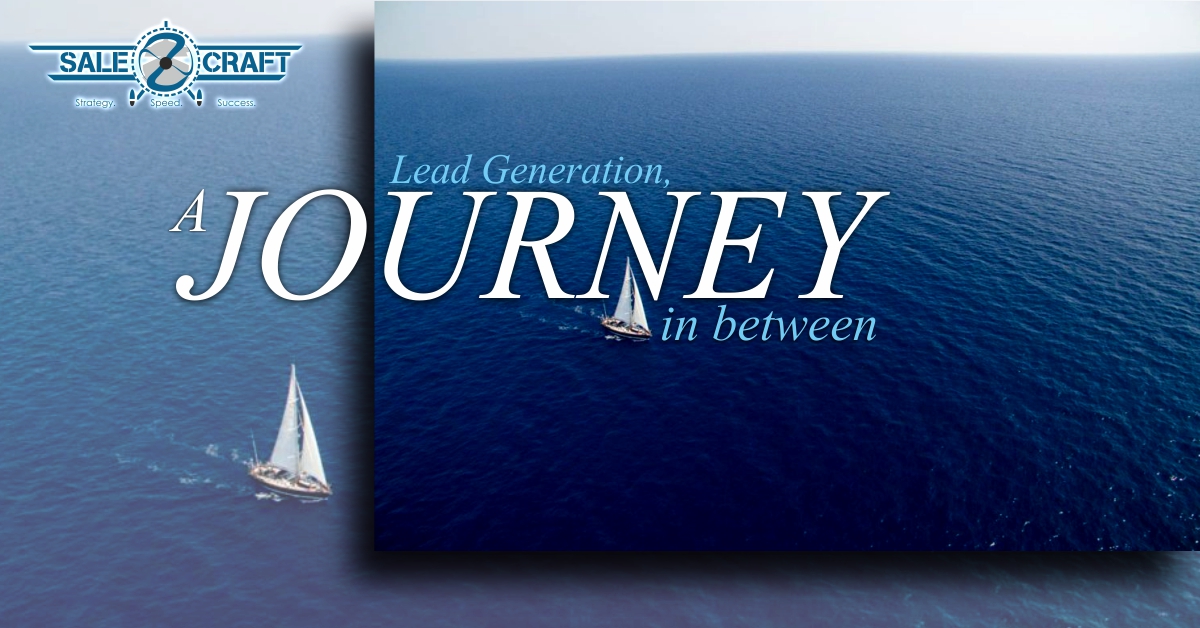 What is lead generation? What are the marketing tools for lead generation? Know everything here about the lead generation journey.
As we have discussed lead generation, the best ways to capture leads, and how it manages across the stages in our recent blog "Lead Generation To Its Edges". In this blog we will enjoy the in-between journey of lead generation and how can you enhance your marketing efforts by just following core marketing strategies.
These days all companies are working on their lead generation strategies, because of this ever-growing competition. They do not know what their competitors are planning, there is no option left except to always be ready for the change. After all, we can not just sit relax and wait for their action.
"the only thing that does not change is the process of change"- Husain Kachwala.
Lead Generation is not a new form of gaining new business, but now it has a new approach. Lead generation not only being a strategy to spread awareness, it also increases sales of your products or services while turning your leads into full-fledged customers to increase the profit margins for your business. It became a must-stay strategy in this competitive market. First and foremost the leads that you capture or purchase will not always give you the right outcome that you are expecting unless they get to know you. Without knowing your brand your prospects may end this being infuriated by your ads and continuous calls. So market yourself on various channels by generating traffic to landing pages to tell them who you are can take your journey forward.
For our visual learners, this chart explains the flow of lead generation from promotional marketing channels.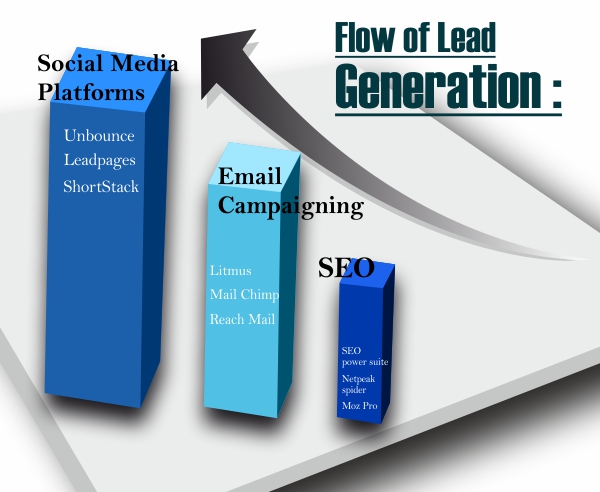 Lead Generation Marketing
For any business generating new leads with their marketing strategy are the biggest key to expanding their outreach. We will discuss here what channels you should use to promote your landing page?
SEO- Search engine optimization would be an effective way to increase the online visibility of a website or a web page in a web search engine, in organic results. Competition is high and creating customized content for your visitors is just halfway done and showing up on the front page of Google can be the deciding factor for you, you can use SEO as your primary optimization tool for your blogs and articles on your websites. you can use these tools to make your presence more valuable.
SEO PowerSuite
Netpeak Spider
Moz Pro
Email Campaigning- You can generate enough traffic for your landing page by just adding email marketing in your marketing strategies, you can shoot as much as emails you want, customized according to your customer needs, with your landing page URL attached to it, your prospects are more likely to attract to your websites when they find information related to their needs. Content is a great way to guide your target audience to a landing page, typically, you create content to provide visitors with useful, free information.
Use these tools available for email marketing to build strong relationships with your prospects
Litmus.
Mail Chimp.
Reach Mail
Through Social Media- Posting on social media plate-forms could be a time consuming or expensive task for us especially if we try to create them ourselves or hire a developer to do it for us, as most of us are not expert web developers or graphic designers, However, if you are running social media ads with the objective of lead generation, video views, or conversions on social media plate-forms, keeping landing pages on your site will be a necessity for you. You can get help from this list of tools available to do these tasks for you.
Unbounce- You can opt-in for a basic plan of Unbounce at a very affordable price. It has hundreds of landing page templates for a landing page to guide you as well as integration with WordPress, Google Analytics, and a large number of email marketing tools. So instead of hiring a graphic designer to create a landing, you can choose this to help you out.
Leadpages- If you are looking for a user friendly easy to use solution for you, then you go ahead and get a subscription to Leadpages, as it provides outstanding landing page builders and lead generation software with a user-friendly interface it allows you to create landing pages for mediums such as email, Pop-up forms and social media with hundreds of free templates. If you are on a tight marketing budget this tool we would recommend.
ShortStack- ShortStack is a very user-friendly and time-saving landing page builder that helps you to create high-quality landing pages in minutes, ShortStack makes it quick and easy to build a list, collecting information from landing pages that your customers will love.
As you put all these strategies and tools together. You will be able to use various marketing channels to drive traffic on your landing pages to generate new leads. You can include CTAs anywhere in your content, inline, bottom-of-post, in the hero, or even on the side panel. they are more likely to attract by your content and click your call-to-action and move onto your landing page.
A good sign for a happy journey for sure.
"B2B companies that blog generating 67% more leads than the companies who do not". _ WebDAM's Stats
"Over 55% of B2B marketers spend more than half their marketing budget on lead generation".

We will dive in deep to learn more about 'Lead Generation' in our Next blog.
So stay tuned for the next update
And check our recent blogs @ salezcraft.com/blog