Good Script to Boost Your Telemarketing Strategy In a Snap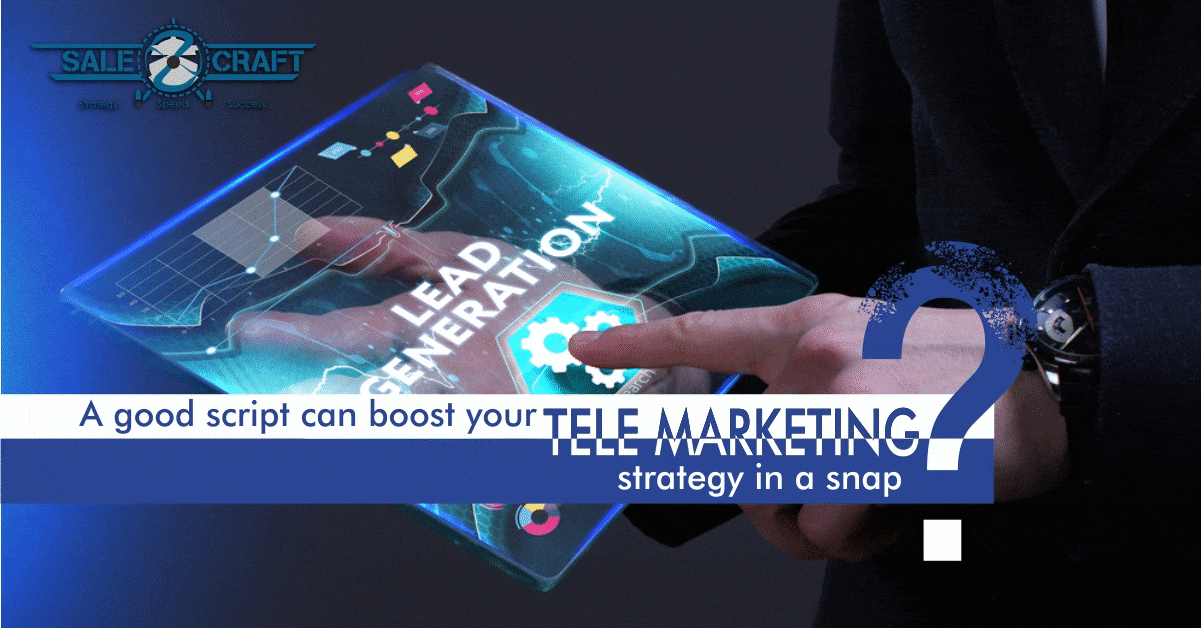 With this blog, we tried to clear the confusion built around the most common questions related to script making which many telemarketers ask.
What Is A script?
A script in marketing is referred to talking points of a white paper that is used by tele-callers to enhance the value of the telemarketing program when talking to prospects. A script allows the telemarketer to focus on the minor details related to the product to educate the prospect adequately. However, the script is strictly based upon the challenges which are being faced by the prospects, in getting the needful customer on board for better sales outcomes.

'A great script in lead generation is critical to make your brand widely accepted.   
What Is Script Building?
A script is supposed to be the soul of a telemarketing campaign and while building a script telemarketers should keep a few things in their mind. A script should be guiding the caller while making a conversation with the prospect and should be able to convey a message that you have the solution that they are seeking.
Not in any way should make a prospect uncomfortable on call. A script should also keep the caller prepared to answer objections it allows the caller to feel comfortable in keeping the prospect engaged and interested. But, this requires carefulness and well-thought-out strategic efforts.
Elevator Pitch- A way to "pitch" your product/service, into all inbound and outbound methodologies. However, when it comes to the method of B2B Telemarketing, it's even more important to get that pitch nailed straight away.
As you only have a few seconds with the prospect then it is important to get your pitch right in the first to make an impression and keep the prospect interested later down the script.
"Don't forget the greetings as It's not what you say but how you say it.
For reference, you can check the sample script as well.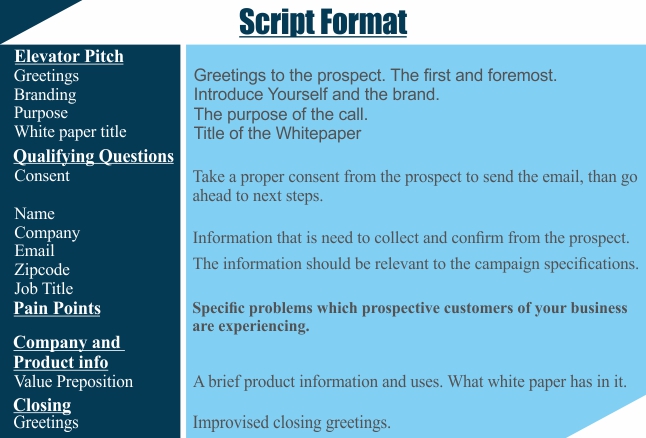 Qualifying Questions- When you first reach out to your prospect, there are chances that he is not the one you should talk with or not necessarily know about what you're selling. The job of salespeople is to establish a fit on all the relevant factors.
And in a way to find the right prospect who has a need for your solution, adding "qualifying questions" in the script will definitely lead you to the right person to contact.

'Buyers don't buy just because they have a serious need, a looming deadline, or money to burn. They buy because of a combination of all of these factors, and more.

Pain Points- Of course there are many ways to find out what pain points your prospects are experiencing as every aspect that comes under the pain points will lead you to the business. In telemarketing, the best way to find out is by asking them about the biggest challenges they are facing through a script by providing similar pain points for a reference just to make them comfortable to choose on call.
It helps you to position your solution to your prospect. However, even if your prospect is interested in the solution, he wants everything on his plate without doing anything.
'Qualitative research is a fundamental part of identifying customer pain points._Wordstream

Financial Pain Points
Productivity Pain Points
Process Pain Points
Support Pain Points

Company And Product Info- While preparing a script creating the 'Value Proposition' could be the toughest part as it refers to a summary of how your solution solves customers' problems or improves their situation and tells the ideal customer why they should buy from you and not from the competition.
While creating the value prop it's important to Identify all the benefits your product offers to the prospect to describe what makes these benefits valuable in solving their pain points to connect this value to their problems.
Why A Script Matters?
You might think that using a script for your sales calls is old-fashioned or inconvenient, after all, they are salespeople who don't want to be sound like an immature telecaller. However, the significance of a script in a telemarketing campaign is critical as it is a highly valuable way to generate rapid ROI and improve user experience.
While guiding salespeople, it also gives a sense of security and consistency to the process. It also ensures that you and the prospect are on the same page (most of the time) for better results. With a script, you have a way to keep your call organized and make sure you hit all the key points of the call, every single time.
 
For recent blogs.
Reach us out at salezcraft.com/blog