Lead Generation Over Lead Nurturing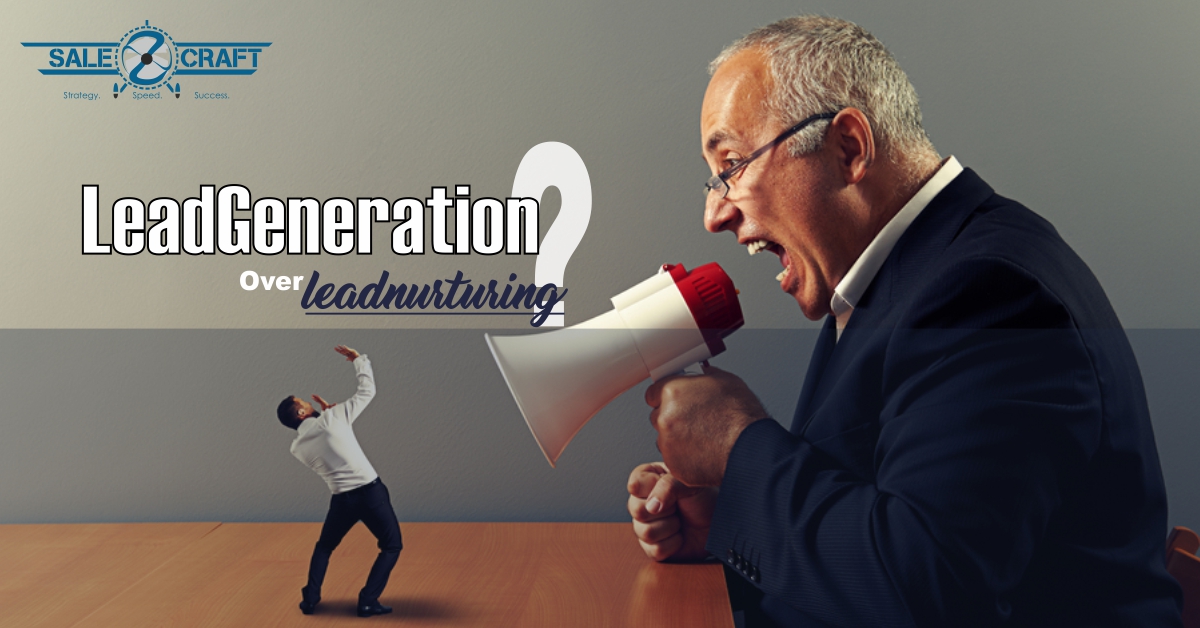 Dealing with a low conversion rate? Busy in generating more leads? Aren't you forgetting something?
The way the lead generation market is growing is no less than a dream age for many B2b marketers. The market is filled with options or says too many options. People now have the option to choose they can pick anyone who can mark a win for them in this rat race. However, most marketers are distressed about the low conversion rate of generated leads.
Ultimately they are being forced to accept the easy solution: Generating more leads to get more qualified ones. Market experts who don't agree with this solution have also termed it as an ultimate excuse to maintain one's position in the market.
In the framework where after all their lead gen efforts marketers are hardly able to convert 10% of the leads and leave upwards of 90% of their leads in the funnel unnurtured. We must say the framework that is being followed by most of the b2b marketers does not have that impact anymore.
Lead Nurturing: A process that may seem to be puzzling to many market minds. Although there are easy ways by which you can segregate lead nurturing from the whole lead generation process. In simple words lead nurturing is part of the whole lead gen process but the generation of leads occurs away before lead nurturing.
It also exists in the form of lead amplification or sales amplification must not be the service but the practice after the lead filters down further as a customer. Today marketers are trying so hard to achieve their lead generation targets and may have forgotten the value of nurturing the generated leads. A lead is nothing more than just an inquiry or a nod for an email until you nurture it.

We have added some of the most effective strategies that you can follow while your maiden lead nurturing practice considering the fact- "70% of the revenue of a business is generated from existing customers, customer satisfaction is of absolute importance in every business".
Targeted content- Sharing content with your targeted subset based on their buying persona is an effective strategy while nurturing your leads. Using targeted content can significantly improve the results of your b2b marketing strategy. It's all about providing relevant content to the right people at the right time to push them to the point where you can convert them into your buying customers. "Leads nurtured with targeted content produce an increase in sales opportunities of more than 20%_Hubspot
Multi-channel lead nurturing- When it comes to lead nurturing one channel isn't enough. If you are nurturing the top of the funnel leads by using just one or two platforms and you think that you are doing your bit for the lead nurturing practice you are partially right. However, this certainly won't take you far. When you are doing multi-channel lead nurturing where you can use tactics like marketing automation, email marketing, social media, paid retargeting, dynamic website content and direct sales outreach, to ensure every lead you score reaches its destination. "Four out of five marketers say their email open rates don't exceed 20%. It's time to think beyond the inbox._HubspotTimely
Follow-Ups- Automated channel of lead nurturing can definitely help you reach a large group of prospects, but timely follow-ups through email or call will definitely increase the impact of your pitch. As various research shows "the odds of a lead entering the sales process, or becoming qualified, are 21 times greater when contacted within five minutes after a lead converts on your website. "The average first response time of B2B companies to their leads was 42 hours_Hubspot

For recent blogs visit salezcraft.com/blog
Or follow Salezcraft Global E-Services on LinkedIn
For daily B2B marketing Updates